During the Trollbloods write up I did for the Exigence Week Book Review Extravaganza, I promised that I would take a deeper look into the theme list of Borka, Vengeance of the Rimeshaws…so I shall deliver.
First things first, I am going to toss out there, that this is pure theory-crafting on my part.
As of yet, I have not played the theme list since I do not own all of the models needed. I have had a few games with Borka2 and so far I have yet to really find my footing with him, I just need to get in more games. I will admit that I am struggling with the five Fury that Borka2 has. I have gotten spoiled by Borka's little drinking buddy, the Keg Bearer. Having access to the extra two Fury makes a huge difference when it comes to the spells and the access to extra boosted rolls when needed. As a Warlock though, I really like him, his story, his sculpt, his rules.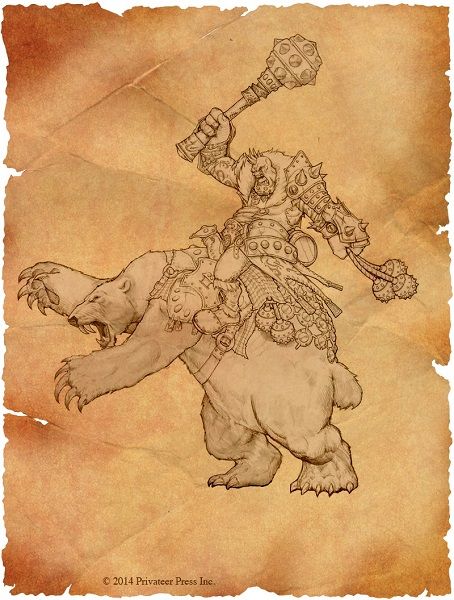 Now on to the theme list: Avalanche.
The list limits certain models as all theme lists do, in this list Borka gains access to:
Warbeasts: Non-character warbeasts and Rok.
Battle Engines: Trollkin War Wagon
Units: Kriel Warriors, Krielstone Bearer and Stone Scribes, Trollblood Cavalry Units (Long Riders) and Trollblood Units with Advance Deploy (Northkin Fire Eaters, Pyg Burrowers, Pyg Bushwhackers, and Trollkin Scouts).
Solos: Fell Caller Hero, Trollkin Sorcerer, Troll Whelps, Trollblood Cavalry Solos (Horthol, Long Rider Hero), and Trollblood Solos with Advance Deploy (Trollkin Skinner)
Not a bad selection. Composition wise the list fits the aesthetic theme of Borka, Vengeance of the Rimeshaws.
Time to break down the Tiers of the theme force 'Avalanche'
Tier 1 Requirement: Can only take the models listed
Tier 1 Bonus: Reduce the point cost of Trollblood Cavalry models/units by 1.
Thoughts: So…expensive Cavalry models are now one point cheaper, nice! This bonus affects the Long Riders, Horthol, and the War Wagon. Take all three in your list (and honestly why wouldn't you??) and you get a three point discount. Effectively one of your solos is free of charge or the three Caber Throwers for your Kriel Warriors unit are free, you get the point.
The one thing I am surprised about is that the list did not increase the UA of the Cavalry units, specifically the Long Riders. Privateer Press must know something I don't because when I saw that Borka, VotR, was a cavalry model, I figured his tier list would be a shoe-in for that type of Tier list benefit.
Tier 2 Requirement: The army includes two or more models/units with Advance Deployment
Tier 2 Bonus: Models/Units can be affected by Borka's upkeep spells during the first turn and the spells are free to upkeep during the first turn..
Tier 2 Thoughts: When I took my first look at this Theme list, I was trying to figure out why this was put into the list. After a few games of playing Borka and the Krielstone, I was constantly Fury starved and always felt behind the 8-ball the entire game…I had to either power up the Krielstone or pay for the upkeeps on the first turn but not both. The sweet thing about this tier benefit is you can meet the requirement with two Trollkin Skinners due to the wording 'two or more models/units.' For 4 pts you get a spectacular bonus and now you can do both, you can power the Krielstone first turn because your upkeeps are free. Oh silly Privateer Press, you do know something! How could I lose faith in you?
Tier 3 Requirement: The battlegroup includes Rok and one or more Winter Trolls.
Tier 3 Bonus: For each warbeast that Borka has, you get to place a 4" AoE template within 20" of the back edge of the deployment zone. Each AoE is called a 'snow drift' and when a model is within the template they gain concealment, if the model in the terrain doesn't have Immunity: Cold then the AoE is considered rough terrain.
Tier 3 Thoughts: The big take away here is that the model (friendly or enemy) without Immunity: Cold treats the AoE as rough terrain. Just be careful with this one because like Borka's feat, it doesn't discriminate between friend or foe.  Hmmmm…so a model that has Immunity: Cold gets a 4" AoE where it gains concealment. Not bad, I'll take a +2 DEF versus ranged and magic attacks any day. Couple this effect with Borka's Field Marshall ability (Immunity: Cold) and his spell Snow Shroud plus placing the 'snow drift' AoE's close enough to run forward first turn and gain concealment to give a little bit more survive-ability to a very melee-centric theme. You will get two AoEs at a minimum and pending your build, you could have a few more.
Tier 4 Requirement: The army includes one (or more) Trollkin War Wagons
Tier 4 Bonus: Models in the battlegroup gain +2 SPD during your first turn of the game.
Tier 4 Thoughts: +2 SPD. I like it, honestly I love it. A SPD 7 Warlock becomes SPD 9. Good Golly Miss Molly!! Wowza!! Now apply the +2 SPD to your warbeasts and all of a sudden you have SPD 7 warbeasts, and those 20" AoE 'snow drift' are now well within in reach of running distance to your battlegroup. I will always remember the first lesson I learned when playing Trollbloods. Trollblood Armies are deceptively quick. First turn, rocketing a Dire Troll halfway up the playing field, now make that two or more Dire Trolls rocketing up to the half-way point of the field and that is enough to make anyone cringe a little bit. Tactically speaking, it may not be the wisest thing to do, but the sheer shock factor of it makes me want to do it at least once just for the 'shock' factor of it to see my opponents eyes get as big saucers.
Now I have seen how the theme force works, I have to say, it is pretty darned impressive. Each element works together and each tier adds up and builds upon itself and makes a compelling case to go to full Tier 4 with this Theme force. Time to generate a few lists using War Room
Borka and the Tuffalos (50pts)
Borka, Vengeance of the Rimeshaws – WB: +6
– Rok – PC: 11
– Winter Troll – PC: 5
Trollkin War Wagon – PC: 8
Horthol, Long Rider Hero – PC: 4
Trollkin Skinner – PC: 2
Trollkin Skinner – PC: 2
Fell Caller Hero – PC: 3
Troll Whelps – PC: 2
Trollkin Sorcerer – PC: 1
Long Riders – Leader & 4 Grunts: 10
Pyg Bushwhackers – Leader & 9 Grunts: 8
This list meets Tier 4 requirements and will generate two 4" AoE 'snow drift' templates. As far as the upkeep spells go, I would put the Snow Shroud on the Long Riders and use the Pyg Bushwhackers to help soften up the enemy from afar. The one thing that is missing is the Krielstone Bearer. Alas in this list the Krielstone Bearer just can't keep up with the fast moving cavalry and the bonuses they provide won't really benefit the ranged nature of the Bushwhackers. The Sorcerer is well, 1 point and filled that 1 point slot rather nicely. To get another 'snow drift' AoE, you could always drop the Bushwhackers and the Sorcerer and pick up a Dire Troll Mauler to add to the mix…that is at least three or four thousand pounds of angry Dire Trolls breathing down your opponent's neck. Just be mindful that with that option you are running a very low model count for a 50pt list.
Borka and the Good Ol' Boys (50pts)
Borka, Vengeance of the Rimeshaws – WB: +6
– Rok – PC: 11
– Winter Troll – PC: 5
Trollkin Skinner – PC: 2
Trollkin Skinner – PC: 2
Horthol, Long Rider Hero – PC: 4
Fell Caller Hero – PC: 3
Troll Whelps – PC: 2
Trollkin Sorcerer – PC: 1
Kriel Warriors – Leader & 9 Grunts: 6
– 3 Caber Thrower's: 3
– Kriel Warrior Standard & Piper – Standard & Piper 2
Long Riders – Leader & 4 Grunts: 10
Krielstone Bearer & Stone Scribes – Leader & 5 Grunts: 4
– Stone Scribe Elder – Elder 1
This list is Tier 3 compliant since there is no War Wagon but that 8 points is used to purchase the Kriel Warriors brick and the support models needed in the form of a Fell Caller and Trollkin Sorcerer. This list emphasis the use of the Tier 2 benefit for putting out free upkeeps on turn 1 and the ability to load up the Krielstone Bearer. First the Kriel Warriors gain the benefit of Snow Shroud and the Kriel Stone gets 5 Fury to hold onto until needed (probably turn 2 or 3 at the latest). Now the Cavalry is used as a 2nd line unit and the Kriel Warriors become a gigantic TAR pit unit and your opponent should beware the feat turn. Lots of stationary enemies' models equals a very painful post-feat turn when Borka, the Cavalry and the rest of his battlegroup join the fray.
These are just a few lists that can come out of this Theme list. Borka, VotR, is a very versatile Warlock and like any Warlock, there is always the potential for a bad match up (any caster/model with Purification or Hex Blast is going to make things very difficult) but I have faith in the fact that Borka and Arktos will be able to pull out some great victories.
For Kith and Kriel!!